"You're off to great places! Today is your day! Your mountain is waiting, so get on your way!
- Dr. Seuss
I just want to say that I am extremely fortunate to have had the past three weeks that I have. Between having our visitors, spending time in Texas, and then being in NYC and Boston, I have definitely been off to
great
places!
I will start by sharing my trip to NYC with my younger sister for her Spring break. What an amazingly awesome and intimidating city! I had forgotten how large it was and how many ways there were to get lost.
View of Manhattan from Brooklyn
We did so many things that it will be impossible to blog here without rambling so I will just give you highlights and insights from our trip to the Big Apple.
Grand Central Station
Battery Wharf overlooking Ellis Island
Ventured all over NYC with our good friend Alex
We also met up with our friend Ariel and explored Central Park!
The most touching and memorable experience in NYC was a visit to the 9/11 Memorial located at ground zero where the two towers stood twelve years ago.
I remember very vividly where I was when the towers fell on September 11, 2001. I was in my 7th grade English class. People were running down the halls screaming that the twin towers had fallen in New York City. I had no idea of the magnitude of devastation that had just rocked our country. Everything seemed to stop, we sat on our desks and watched the silent TVs with captions as our teacher explained to us what terrorism is.
The 9/11 memorial opened September 2011 just ten years after the attacks. What an amazing tribute to those who were effected by the tragedy, which I highly suggest to anyone visiting NYC. At the very end of our time in the outdoor memorial, Cati and I just happened to pick up a brochure which explained the memorial, where we were introduced to the "Survivor Tree".
The Survivor Tree is an unmarked Callery Pear in the middle of the 9/11 memorial, and is the only tree that is not an Oak in the memorial. The story of this tree is inspiring, and along with the rest of the memorial, was very touching. This tree is called the Survivor Tree because of it's history. It was originally planted in the 1970's on the area that we now know as Ground Zero. This tree was found in the rubble crushed, burnt, and with torn roots. It had been reduced to an eight foot stump that appeared to be lifeless. A nursery in the Bronx took the tree and nursed it back to health over a period of ten years. The tree was then uprooted and damaged during hurricane Irene, but it now standing a strong and firm 30 feet tall.
There was no written explanation for the tree's symbolism, but then again there is none needed. This beautiful tree is a testament to our faith. It is a reminder that our spirit is indestructible and that with time we can rebuild and heal. Our scars tell a story that have the ability to bring us together.
We had a great couple of days in NYC, stay tuned for more adventures from our time in Boston.
From our home to yours,
Linked up
here
and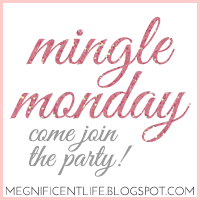 Follow my blog with Bloglovin