It's FRIDAY! The day we all look forward to, ALWAYS!
On Friday you will usually find me dishing out my happies and crappies of the week, but I felt like I have kept you on the up, and up with the little random factoids in my life this week.
And I'm just in an awesome mood, that I don't want to think of any crappies. Fair?
Without further delay, I bring you what I have been so excited about all week!
Our first video post.
Hubby was such an awesome sport about this post.
He knows the in's and out's of my blog world and puts up with listening to me giggle in my own little corner while on twitter, is a faithful reader, and gives me input for topics.
He is however, a bit camera shy and likes to keep his anonymity.
I'm sure I take that from him more times than he enjoys but I'm thankful he still loves me!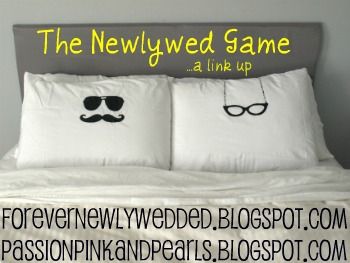 We teamed up with other newlywed couples to play a little newlywed game.
Side comment...I will be really sad the day that we are no longer newlyweds? When does this happen? Like 5 years down the road? Ok good, I thought so!
The list given was 10 questions long, but we chose four since this was our first cameo.
We didn't want to get big heads and end up in Hollywood by the end of this afternoon.
So, we all know we are our own worst critics.
I'm really trying to take what my momma gave me and love it all.
But I do apologize in advance for wacky hair and odd facial jestures.
It's all me...nothing more, nothing less!
Happy Friday loves,
Maybe you will join us next week?