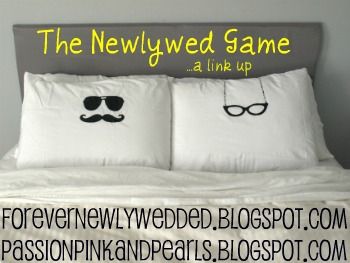 Today we are playing the Newly Wed game and answering a few questions about being newly married.
Joe's answers were all unique and done separately from mine.
Hope you enjoy, happy Saturday!
1.Did anything go wrong at the wedding that you didn't find out about until AFTER everything was said and done? Please share.
C: Yes! During the father daughter dance, my dad told me that we had run out of beer and wine and that he had just gotten back from buying more...phew!
I had also requested a Dos XX keg and when my Grandpa and Uncle went to pick it up the day of the wedding, they had mysteriously sold my keg and didn't have any other Dos XX kegs. Don't worry. We found the last one in the DFW metroplex
J: Yes, I was supposed to escort my mom down the aisle instead of the usher. Oops
2. Did the wedding make or break any relationships for you in the process (did you find that you respected certain person/people more or less?)
C: No, it didn't really break any relationships. And I think I only had one bridezilla moment and that was with the tuxedo place. It was difficult during the invitation process to have to chose which people to invite and it did upset some people which really affected me. I didn't want anyone upset with me, but I also needed them to understand we were working with a budget and both Joe and I have large families.
J: I really enjoyed how Aunt Kim helped organize a lot of the wedding and helped Casey and her mom a lot. It made us feel like one big team, and helped us all to grow closer during the process.
3. Having been married now, what new thing have you found out about your spouse that surprised you?
C: I think I learn something every day and that's the joy of marriage. It has honestly surprised me how easy is has been living together. I will admit I was a bit nervous at first.
J: I knew pretty much everything about Casey, not much has stood out as a surprise yet.
4. What does your spouse do that you find most encouraging? Where else would that encouragement help you?
C: Joe is the most patient and soothing individual I have ever met. I have so much to learn from him in these departments. He is really good about helping to take away my anxieties and he is so patient with my ever changing moods.
J: I love it when Casey resorts to laughter and playfulness rather than any other emotion. It helps me under any circumstances to remember that life is about being happy and having fun.
6. What was/is your spouse's favorite childhood movie?
C: I would say probably Sword and the Stone
J: Beauty and the Beast is Casey's favorite movie.
7. What would be your spouse's "must-do" date now that nice weather and summer break are coming up?
C: Fishing, fishing, and more fishing!
8. Do you and your spouse have summer vacation plans? To where?
C: We are hoping to make it home this summer and looking to visit the big city.
J: Hopefully a cruise, a trip home, and a trip to Boston, NYC and maybe Montreal
9. If you and your spouse could take one "skill" class (cooking, painting, motorcycle, etc), what would you choose?
C: I would love to do one of the painting classes like "Paint with a twist"
J: I would enjoy Casey and I taking a cooking class together
10. If you could go back to your wedding planning days, what would you tell yourself? Would you have done anything differently?
C: I was very fortunate to have my mom and aunt, as well as bridesmaids help during the process. When I would get overwhelmed I would just shut down and not want to plan anymore and my aunt and mom were really good at pushing forward, and I would catch back up when I wasn't as overwhelmed.
J: We would have designed the invitations different to prevent confusing and awkward situations regarding guests and numbers.