Guess what? It's FRIDAY! Even though I will be working all this weekend, just being Friday means something in my book!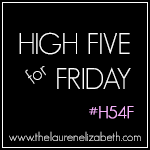 This Friday I'm joining in on the "High Five For Friday" link up. These are 5 highlights from life lately
1// In the past week I have ran a total of 14 miles which I'm thankful I have been able to keep up with!
Did you happen to see what my
motivation
is?
2// Joe and I started our Bible adventure. We plan on reading the entire bible in 12 months. Every night we read 3 chapters in the Old Testament and 1 in the New Testament. It's been really helpful to read together so I can remain focused and ask LOTS of questions.
3// Joe and I planned out a budget last night and thankfully it went much smoother than either of us thought. It's helpful now that we have two incomes again.
4// You may have seen some hiking pictures via my Instagram. Joe and I headed up to the Helderberg Escarpment to check out the Indian ladder trails. These were old trade routes that the Native Americans used to trade on which include underground streams and even a couple of waterfalls.
5// Last weekend we found a sweet little wine bar and restaurant that we all fell in love with.
What are you up to this weekend? Since I'm working, I'll just live vicariously through you!
T.G.I.F.
Meet one of my favorite bloggers!