I can't believe that Cheers not Jeers is in its 10th week. Can you even believe how many cheers that is? It's a TON and I'm thankful that you are here (maybe again) this week to help spread a little cheer.
As bloggers, more importantly as women, it is often easy to get caught up in the strains and drains of life. Lets face it, life can just flat out SUCK at times. And I don't know about you, but I don't know anyone who doesn't love a sweet compliment or a simple thumbs up thrown their way. As motivation to spur a little female bonding around the "interwebs" I introduce to you this weekly link up "Cheers not Jeers"
This is your chance to build up some of your favorite women and showcase their talent through your blog and spread a little sisterly love.
How it works:
Every Wednesday join in the link up by including "Cheers" about your favorite bloggers. These are bloggers who spur your creativity, touch your heart, or keep you sane laughing.

Post a small shout out or devoted post to your blogger loves, creating more community between each other, while posting a link to their blog in your post so others many be inspired.

After linking up, find a new face, visit a new blog, introduce yourself and send them a "cheer"
Highly Encouraged:
There are no specific "rules" about following certain individuals in the link up, but just strongly encouraging women to seek out one another and offering praise instead of the negativity we can often see floating around the world wide web. I will personally visit each blog in the link up to see what an awesome impact this is making.
_________________________________________________________________________________
Cheers not Jeers Episode 10
Today is a 2 for 1 special as these two gals are all about getting fit, feeling confident and overall being

healthy in the new year.
So if you're like me…your New Years motivation has officially left the building. I had a great thing going, I was more energized and lost a few lbs…soooo whats the deal? I just crave the

junk

.
So I'm really leaning on these sweet gals to keep me motivated as we head into chocolate season (Valentines). Each Monday they have a "Get Fit" link up where you can share your journey and progress to a healthier you in 2014.
Samantha from "Life Style Love" is a spunky gal who just so happens to be a hockey wife…this is something I cannot relate to, but I find absolutely intriguing. Hockey is the ONE and only sport I don't quite follow as far as rules go. Don't cringe Sam! Let's go to a game together or heck I'll just start with her "you know you're a hockey wife when" post and we can go from there. I promise it will be fun!
Brittany is someone who I just KNOW I could sit and drink coffee with and talk for hours and hours. Her kind spirit and motivating words often keep me going and motivated to share my heart with others when I feel like I should contain it. Happy is a Choice is her sweet space where over the course of the month she will be sharing dating mistakes you don't want to make. I'm so glad to have found this sweet blogger and her genuine heart!
So go check out these wonderful blogs and be sure to join in their Monday "Get Fit" posts where you can lean on others for a little motivation…I know I will!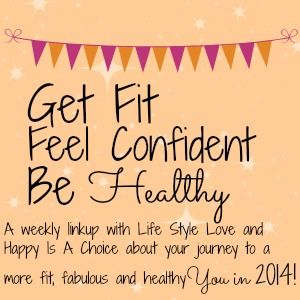 So won't you join us in spreading Cheer? Be sure and grab the button below to include in your post! Can't wait to read your Cheers!