I'm so glad you're here! Spreading cheer around the blogging community is one of my favorite things to do, so much that we do it every Wednesday! Join us and bring some warm fuzzies to your favorite bloggers!
As bloggers, more importantly as women, it is often easy to get caught up in the strains and drains of life. Lets face it, life can just flat out SUCK at times. And I don't know about you, but I don't know anyone who doesn't love a sweet compliment or a simple thumbs up thrown their way. As motivation to spur a little female bonding around the "interwebs" I introduce to you this weekly link up "Cheers not Jeers"
This is your chance to build up some of your favorite women and showcase their talent through your blog and spread a little sisterly love.
How it works:
Every Wednesday join in the link up by including "Cheers" about your favorite bloggers. These are bloggers who spur your creativity, touch your heart, or keep you sane laughing.

Post a small shout out or devoted post to your blogger loves, creating more community between each other, while posting a link to their blog in your post so others many be inspired.

Grab the button below to include in your post

After linking up, find a new face, visit a new blog, introduce yourself and send them a "cheer"
Highly Encouraged:
There are no specific "rules" about following certain individuals in the link up, but just strongly encouraging women to seek out one another and offering praise instead of the negativity we can often see floating around the world wide web. I will personally visit each blog in the link up to see what any awesome impact this is making.
_________________________________________________________________________________
Cheers not Jeers Episode 8
Meet
The Florkens
, a ridiculous funny duo that share a blog space that is brilliant! I admire Adam for bringing his part to this predominantly driven estrogen land. They are both brilliantly brainy with a sense of humor that will have you rolling around. Not to mention Kate and I had a lot of the same "issues" at our
weddings
.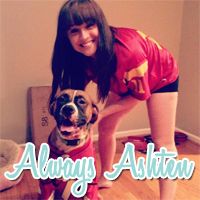 Ashten from
Always Ashten
is about the coolest thing since sliced bread…I joke not. What is also amazing is that she is one of the amazing bloggers who supports the
Young and Brave foundation
which is dedicated to those who are battling cancers which are often terminal at such a young age. She also hosts
Vlog Like a Boss
on Fridays which is never disappointing on her witty end! Always a good time around her part of the blogsphere.
Meg is the
Yammering Yankee
, a Northerner "stuck" in the South… Meg lets trade places! One of the reasons I love this gal is she and I know when Julian Michaels is definitely
photo shopped
…we just have the eye. Hah! I love her most recent post about getting back into the workout mode during the new year. She is also a supporter of the Young and Brave foundation which makes her even more amazing!
Don't forget that if you link up with us today, you're eligible to win free "
Upstate NY
" ad space this month and then 50% off any other ad option with the Aslans!
So link up your Cheers not Jeers, grab the button and see the positivity spread!
Meet one of my favorite bloggers!