This week I want to introduce to you these wonderful women who I had the pleasure of meeting for the first time this past Friday during
Happy Hour Hangout
Cheers not Jeers Episode 14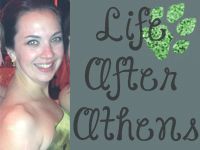 Margaret from
Life After Athens
is quite the hidden gem of this blog world. She has a witty sense of humor and I loved getting a glimpse of her collegiate love. Margaret and her husband are in the middle of the
house buying process
which I have loved getting to read about. Joe and I are entertaining the idea of becoming home owners and getting to see what others have gone through is encouraging as well as helps us to steer clear of sticky situations.
Their new house looks perfect and I can't wait to get the full online tour!
long for home
.
Now these are just 2 of the awesome women who I got to share my Friday night with, but be sure and check back for some must read blogs in the up coming weeks. And as always, take that time to spread a little cheer.
As bloggers, more importantly as women, it is often easy to get caught up in the strains and drains of life. Lets face it, life can just flat out SUCK at times. And I don't know about you, but I don't know anyone who doesn't love a sweet compliment or a simple thumbs up thrown their way. As motivation to spur a little female bonding around the "interwebs" I introduce to you this weekly link up "Cheers not Jeers"
This is your chance to build up some of your favorite women and showcase their talent through your blog and spread a little sisterly love.
How it works:
Every Wednesday join in the link up by including "Cheers" about your favorite bloggers. These are bloggers who spur your creativity, touch your heart, or keep you sane laughing.

Post a small shout out or devoted post to your blogger loves, creating more community between each other, while posting a link to their blog in your post so others many be inspired.

After linking up, find a new face, visit a new blog, introduce yourself and send them a "cheer"
Highly Encouraged:
There are no specific "rules" about following certain individuals in the link up, but just strongly encouraging women to seek out one another and offering praise instead of the negativity we can often see floating around the world wide web. I will personally visit each blog in the link up to see what an awesome impact this is making.
Have you visited my new adventure?